3-5-2 Conte for FM 21
Friends of Football Manager Guru today we would like to talk about 3-5-2 Conte for FM 21, that is the evolution for the new edition of the game of 3-5-2 Giamma Conte of which we talked about last season and that has been a great success.
As always we thank the author of the tactic, Gianmaria Gavelli, friend and great expert of the game. The 3-5-2 Conte for FM 21 is obviously the evolution of the basic tactic revised for the new features of FM 2021.
Some details
Created on the tactical ideas of Coach Antonio Conte, the tactic is developed on the tactical dictates of Antonio Conte's Inter 2019-20, improved for the characteristics of the new players and adapted for the new edition of FM 21.
The 352 Giamma Conte was the tactic with the most downloads ever in FM 2020 (2,043 downloads). The tactic faithfully reproduces Antonio Conte's 352 at Inter and has enabled the author to win a lot in different careers as we have told you with Oxford United.
Gianmaria Gavelli's Oxford United were the ones who achieved the best results, bringing home 5 Premier Leagues and 3 Champions Cups.
As already mentioned, version 2.0 is completely based on the previous version, but with some tactical improvements necessary for the new edition of the game.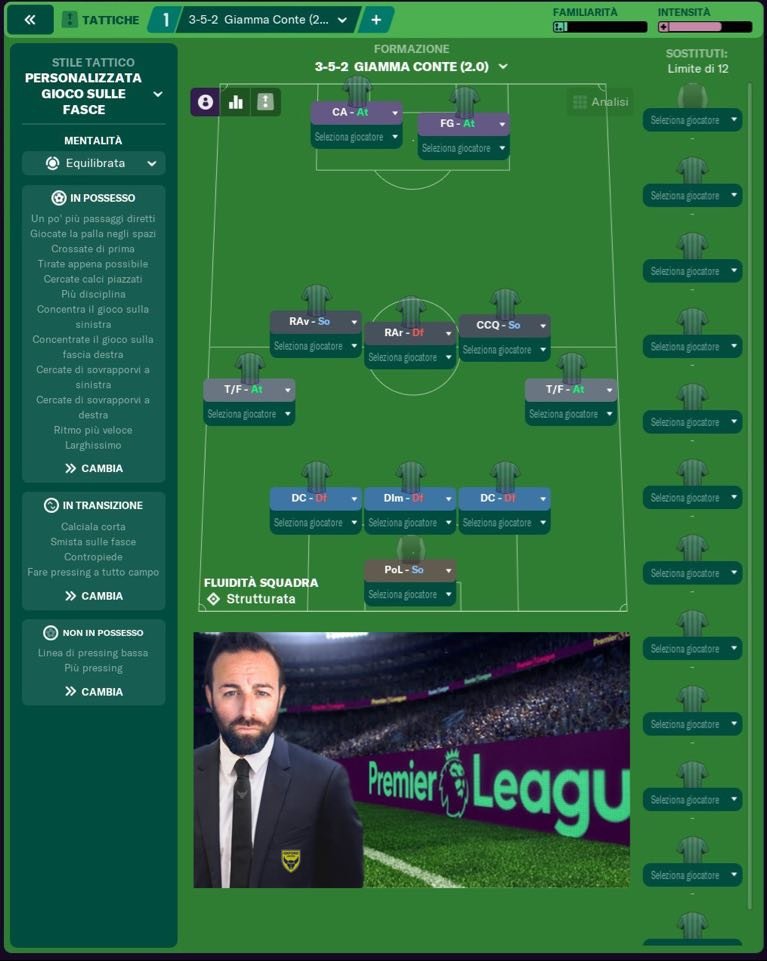 Download: 3-5-2 Conte for FM 21
You can download the 3-5-2 Conte for FM 21 by clicking on the following link:
You will be taken to an external Google Drive page from where you can easily download the indicated file. If you have any problems, please do not hesitate to contact us for help.
Detailed instructions for player roles
We recommend that you specifically check out the old tactic created for the 2020 edition, which you can find at the following link: 3-5-2 Giamma Conte for FM 2020
Conclusions
For any further information or more details about Conte's 3-5-2 for FM 21, all you have to do is comment on the article. The author will provide you with all the necessary details as soon as possible.
Alternatively, you can write to us via the contact page.
Until next time!