Guardiola's 4-3-3
Friends of Football Manager Guru today we present a new post dedicated to the tactics category of Football Manager 2020. The tactical scheme shown here is Guardiola's 4-3-3 for FM 20. This tactic takes its cue from the current module used by the famous Catalan coach at the helm of Manchester City.
Tactical Details
Guardiola's 4-3-3 involves a style of play based on beautiful football and relies heavily on: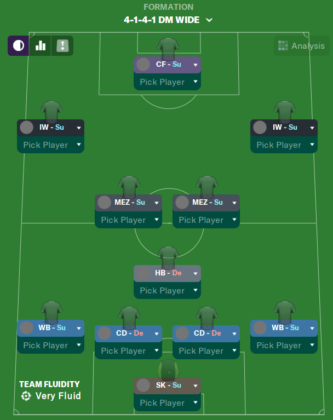 ball possession
speed
play wide but fast
Through this tactic designed for Football Manager 2020, a lot of work is done on ball possession, short passes and patient playmaking in order to open up the opponent's defenses to punish with the champions on the offensive side.
Download tactics
You can download Guardiola's 4-3-3 tactic by clicking on the following link:
Conclusions
For any other information or more details about the proposed tactic, all you have to do is comment on the article. The author will provide you with all necessary clarifications in the shortest possible time.
Alternatively, you can write to us via the contact page.
See you next time!