Maksim Tsygalko is dead
Friends of Football Manager Guru, welcome back with news about our favourite manager game. We have just found out that Maksim Tsygalko has died. This name may not mean much to you at first, but as you read the news you will discover that the name of this Belarusian player has long been linked to the Football Manager mythos.
Maksim Tsygalko legend of Championship Manager
Maksim Tsygalko's career unfortunately lasted only a few years as at the age of 23, the young Belarusian player hung up his boots due to physical problems. However, his name has gone down in history among all the fans of the first editions of FM, when the game was still called Championship Manager.
His real name was Maksim Cyhalka (Belarusian version), which in the Western world became Maksim Tsygalko, the strongest Football Manager player ever. The young Belarussian talent in fact possessed outstanding statistics within the first databases of the game and for this reason he became one of the prodigy boys to have on your team.
It is even said that Tsygalko was the only player to score 2000 career goals in Championship Manager. Not like Messi or Cristiano Ronaldo…
Tsygalko-Cyhalka's main asset was his PA (potential ability), a quality that allowed him to improve very quickly and to be coveted by the best European top clubs, such as Barcelona in the example of the picture.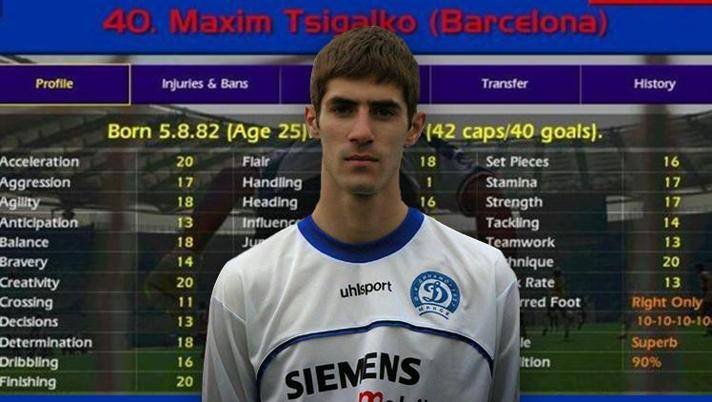 His life after the football career
As previously mentioned, the Belarusian footballer stopped playing at the age of 23 due to countless physical injuries. His goals for Dinamo Mynsk remained mostly virtual, as he rarely played on the pitch.
After stopping his career as a footballer, he began producing windows for the home and unfortunately, on Christmas Day 2020, he left us for reasons that are still unknown.
Conclusions
Obviously we join in the grief of the family and all FM fans, who like us will be saddened by the passing of Maksim Tsygalko, the most successful Football Manager player ever.
You can write to us either through the contact page.
See you soon!